Buying Precious Metals & Stones - Jewelry Repair - Jewelry Appraisals - Custom Design
WE BUY GOLD, SILVER, PLATINUM & DIAMONDS

We pay the highest prices in the CSRA for your jewelry, coins, and flatware. Our knowledgeable staff will be glad to inspect your items and give you a quote while you wait. No appointment necessary! Stop in at your convenience.
Customers are never pressured to sell and are encouraged to check around with other stores in the Augusta, GA and North Augusta, SC area. Nearly everyone returns and tells us our price was by far the best quote they received. Stop by the store and see for yourself!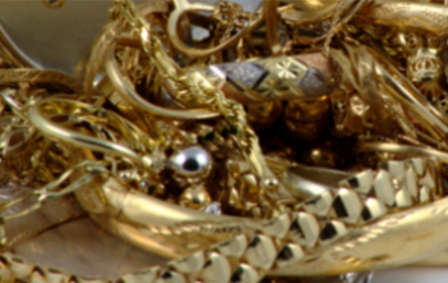 ---
JEWELRY REPAIRS
Ring Sizing - Stone Setting & Replacement - Prong Repairs - Chain Repairs - Pearl Restringing - Engraving - And Much More!

Stan Johnson Jewelers performs excellent quality repairs on-site for your engagement rings, estate jewelry, and other valuables. From simple diamond jewelry repairs to complex re-designs of old pieces, we offer helpful advice and always handle your jewelry with the greatest care. Visit our jewelry store today for the best service you'll find anywhere in the Augusta, GA area!
We offer a one year warranty on our work.*
Stan Johnson Jewelers has provided the CSRA with quality workmanship and superior customer service for over 35 years. Most repairs are performed by Stan himself and all are supervised by him. It is not often that the owner of a jewelry store is the one performing repairs on your jewelry -- this is a unique benefit to having your jewelry repaired at Stan Johnson Jewelers. The extra care and pride that Stan applies to repairs is seen in every piece!
Recently, we've invested in upgrades to serve our customers even better! When you leave a repair with us, you'll receive a receipt with a photo and description of the item(s) you're leaving as well as detailed pricing information. This information will also be stored in our computer system to help us better track your repair's progress. 
We now offer rush service on many repairs!
*Warranty is strictly limited to the repair. We will re-perform the repair at no charge. Some items, including those performed "at customer's risk" and non-precious metal items, cannot be included in our warranty. We can not be held responsible for what happens to a piece of jewelry after it leaves our store, so we recommend insuring your jewelry to cover accidental damage and stone losses. We do not assume responsibility for lost gemstones and diamonds.
                
Cleanings and inspections are always free. For your convenience, we offer this service while you wait. Stan Johnson Jewelers recommends having the pieces you wear most often cleaned and inspected twice a year.

Most watch battery and link adjustments can be performed while you wait.
Visit today for the best service you'll find anywhere in the North Augusta, SC and Augusta, GA area!
Here's a small sample of what others have to say about our work:
"I was extremely impressed with their expertise and the turn around time!! Went over the top to make sure I had a piece , that I wear daily, before leaving on a trip!! It was that very personal consideration that really blew me away!! He fixed it for me immediately!! I am sure they can not always do that but I sure did appreciate that they did!!! Highly recommend and the price was amazing too!! Bren" - Brenda on Facebook
"Everyone is so nice. First time going and I had to take some links out of my watch. I was pleasantly surprised it would take a week to do. They did it right then and there. 5 stars in my book. I've found my go to Jeweler for gifts, work done and just for myself." - Rosemary on Google

"I had a gold chain repaired, the service was excellent. The sales girl was so nice and actually started a wish list for me. I purchased a bracelet while I was looking. I had a 2 ct. diamond ring repaired months a go and was so happy dealing with a small town friendly owned jewelry store again. You will immediately feel comfortable leaving your jewelry here..." - Judy on Facebook
"Stan Johnson has done work on two of my family heirloom rings; they were very considerate and have an eye for detail. Also, the staff here are fabulous! Prices are more than reasonable and they genuinely care about their customers." - Erin on Google

"I had a bracelet repaired. The workmanship was excellent. The repair was completed in a short period of time. Thanks Stan for a job well done, as usual." - Donna on Facebook

"I have had 3 items of jewelry repaired at Stan Johnson's at 3 different times. Each time I have been very happy with the price, the quality of work, and the turnaround time. Staff email me when my items are ready for pickup. Most recently, I received the email but I wasn't able to pick it up promptly so a staff member called me on the phone to make sure I knew it was ready." -Laurel on Google
Follow Us on Facebook to See the Latest Reviews          Check Out Our Latest Reviews on Google

APPRAISALS & EVALUATIONS
Insurance Appraisals - Fair Market Evaluations
Stan Johnson Jewelers understands the importance of accurately evaluating your jewelry. We offer multiple types of reports to suit your needs. Stan Johnson's experience in the jewelry business ensures that you will receive an accurate and fair report.
We offer complimentary insurance appraisals on items purchased from us! 
Precious metal and stone values are constantly fluctuating, so it's important to keep insurance appraisals up to date. We recommend updating your appraisals every 3-5 years. Updates on appraisals from us are complimentary!
Most appraisals take only a couple of days to complete. Our appraisals include a photograph of your jewelry, a detailed description of the item(s), and their values. Complimentary cleaning is always included!
Our Jewelry Store Has a Variety of Diamond Jewelry & More!
If you're interested in checking out our selection, need a repair, or have a piece that you would like appraised, Stan Johnson Jewelers is the jewelry store for you. We're conveniently located to serve Augusta, North Augusta, and the surrounding areas. Stop in today!